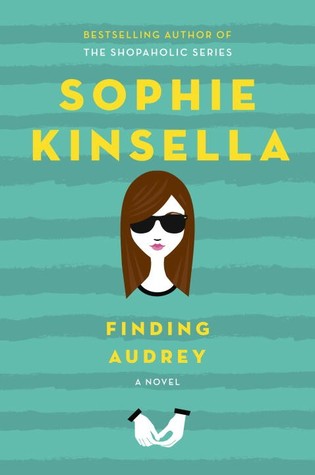 Title: Finding Audrey
Author: Sophie Kinsella
Genre: YA, Contemporary, Mental Health
Source: eARC from the publisher via Netgalley
Pages: 288
My rating: 4/5
From the #1 New York Times bestselling author of the Shopaholic series comes a terrific blend of comedy, romance, and psychological recovery in a contemporary YA novel sure to inspire and entertain.
General opinion:
Now, I've never read Sophie Kinsella's Shopoholic series, but when I heard she was releasing her first YA book, I was excited. I've heard so many great things about her books and writing that it was no surprise that I immensely enjoyed Finding Audrey. It was funny, enlightening and heart-warming. I loved the family aspect of the story and all the characters formed a great crew. The book is very character driven, so in the review I'll talk more about them, the things I liked, as well as the things I found to be missing in the novel.
Characters:
We have our main protagonist, Audrey, who suffers from an anxiety disorder. She has such bad social anxiety that she can't speak to anyone outside her family and wears dark glasses 24/7 to avoid eye contact. I liked Audrey since the beginning of the novel! She had a very vibrant presence, her POV wasn't boring and she just felt real. I loved the moments she would spend with her family, because that's when when her quirky and fun character would shine through. The moment I learned about Audrey's situation and Audrey herself, I sort of became her cheerleader. I would get so excited when she managed to accomplish certain goals (like going to Starbucks; might seem normal to us, but it was a huge step for her). Her character growth was astonishing, even though she stumbled a little along the way.
Then we have Audrey's older brother, Frank. Frank is your average teenage boy: snarky, moody and obsessed with video games. And he was brilliant! Frank is pretty much always the source of comic relief in this novel. Because the book deals with a heavy topic, I found that the blend of comedy worked out really well. I also liked Frank because he really cared for Audrey and would do anything for her if it meant she got better.
Next we have Linus, a.k.a the love interest of Audrey. I found Linus to be really nice, funny and cute. I really admired how he didn't shy away from Audrey, but instead encouraged her to get out of her comfort zone and try new things. Linus makes Audrey comfortable to be herself and paves the way to her recovery.
Audrey's parents were also a big part of the book. I don't read that many books that focus on family, so for the parents to be really involved in the novel was quite refreshing. Audrey's parents were really funny and kind-hearted people. I loved the banters that ensued throughout the novel, mostly between the mom and Frank (hilarious). But also the advice, care and love that the parents had for Audrey.
Things That Were Missing:
There are two things I though were missing: romance and backstory.
The relationship between Audrey and Linus had a beginning and a a satisfying ending But no middle. It didn't have a strong enough build up in my opinion and was a bit flat. I know this book isn't supposed to focus solely on romance, but if you're going to have it in the book, might as well develop it better.
The other thing is that the backstory on how Audrey got her anxiety disorder is extremely vague. We get told that she was bullied and that there were these three girls who did it, but it's all never really explained. Why did they bully her? How did they bully her? Why didn't she tell someone before it got out of hand? I'm really interested in this because whatever they did, it traumatized Audrey so much that she never wanted to make eye contact or get out of the house again. And then there's a part where it says that her best friend betrayed her, but it's also never explained. *sigh*
I mean the book is 288 pages, so it's not like it would have hurt the storyline to explain and develop the romance and backstory some more.
Overall opinion:
Emotional, heart-warming and funny, those are the words I would use to describe Finding Audrey. If it wasn't for the lack of romantic development and backstory it would have easily been a 5 star book, If you love character-driven books with a strong female lead or if you love Sophie Kinsella, then I would definitely check this book out!
Hope you all had a lovely day and i'll see you in my next post!♥